English
Kyoto-style curry udon "MIMIKOU"
[ Hiroshima matoba shop ]
Established 1969.
We sell Kyoto-style Japanese curry 'udon'(thick wheat noodles) - a refined taste we have taken pains to develop from a long-established store.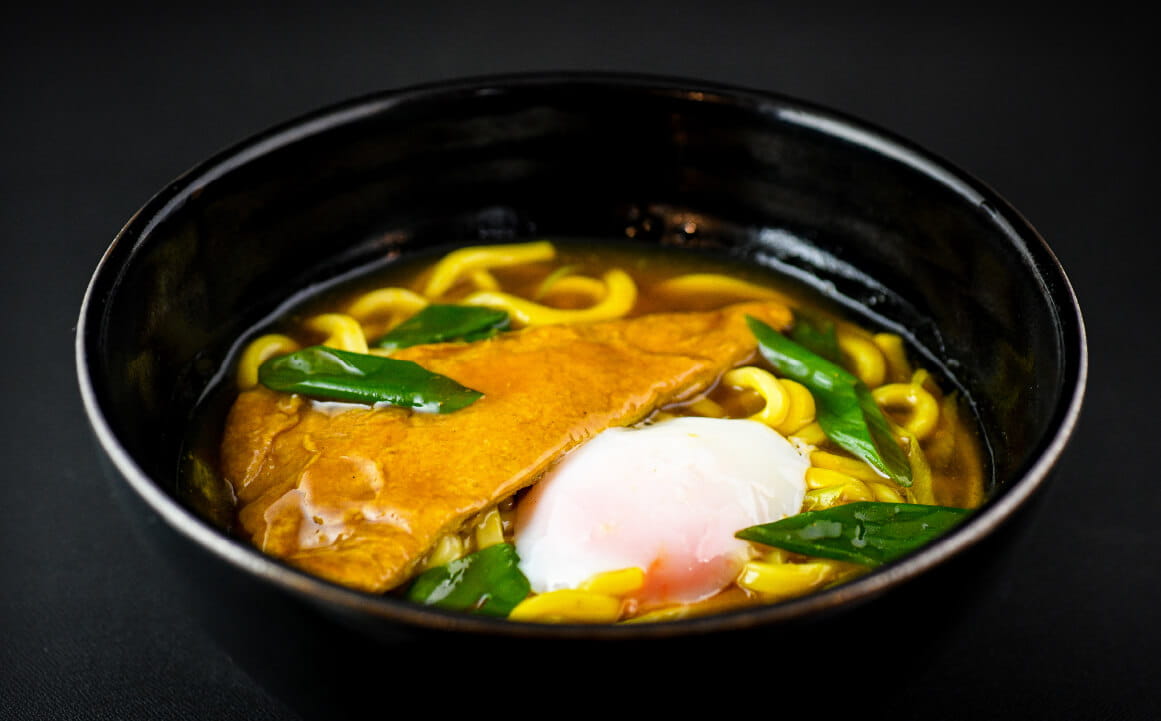 What is curry udon?
'Curry udon' is, along with 'ramen' (Chinese noodles) and traditional Japanese food, a deeply loved soulfood amongst Kyoto-ites. The curry sauce is curry powder thickened with a Japanese soup stock called 'dashi' (which is made of kelp and bonito).The Kyoto-style 'dashi' we use makes for a particularly healthy style of 'udon'.
●Why is Mimikou curry udon so good?
The soup is really healthy

Our soup is made from Japanese-style 'dashi' (soup stock), which is eaten everyday by Japanese. It is made from non-animal originated ingredients.

Fragrant spices

We have selected 11 spices from the hundreds available to create our own special blend. Combined with the Japanese soup stock we use; this makes for a unique Kyoto-style curry soup.

Original noodles

Our 'udon' noodles are made from the same flour as Japanese 'ramen' (Chinese noodles). We call these noodles, which go so well together with the soup, this stores original 'sophisticated noodles'.
Kyoto-style curry udon
Menu
Menu for vegetarian
Some items on the vegetarian menu are completely free of animal products, and even the dashi used in the vegetarian dishes is made of kelp(a type of seaweed) and DOES NOT contain dried bonito or any other animal products.
★ All the items on the menu can also be ordered with normal
Kyoto-style curry udon "MIMIKOU"
[ Hiroshima matoba shop ]
Opening hours:
11:30〜22:00 Mon , Tue , Wed , Thu
11:30〜15:00 Fri
11:00〜17:00 Sat , Sun
Address:
1-1-8 fuaiba-Bld. 1F(JRA),
Matoba-cho, Minami-ku, Hiroshima-Shi, Hiroshima, Japan